"Best In Show" Dog Grooming Package
On Site Grooming at Home or Office
Brush Out
Bath w/Shampoo & Conditioner Treatment (Bio-Degradable, Eco-Friendly & Natural)
Trim Nails
Clean Out Ears
Clean Teeth
Anal Glands (By Request)
Sanitary & Paw Pad Trim
Bow, Tie or Bandana
Additional Dog Grooming Services By Request:
De-Shedding Treatment

Benefits Include: Stimulates Healthy Fur – Reduces Allergens – Prevents Painful Matting – Improves your home's cleanliness – Promotes Bonding

Dematting

Helps disseminate the natural oils in your dog's coat – Can spot anything unusual, such as bumps or parasites – Also prevents painful mats & is a a great way to bond

Flea & Tick Shampoos – Remove the "source of torment" & relieve your fur baby of scratching & biting!
Deodorizing Treatment – When you look as good as they will when I'm done grooming, it only makes sense to smell good too – We can help with that!
Why Regular Dog Grooming is Important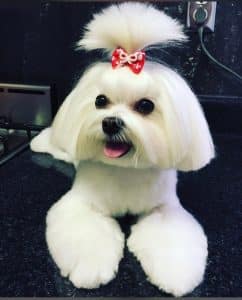 Getting your dog groomed is not just about having your dog bathed and keeping it looking good. Dog grooming is about both maintaining good health, as well as a good appearance.
Regular dog grooming allows the groomer to spot any developing diseases or potential skin problems early on, allowing them to be treated before they might become a serious skin problem for your dog.
During the grooming process, a professional groomer will be making observations from head to toe, checking for potential problem areas in your dog's coat, teeth, eyes, ears, nose, and paws. Many of these areas may be missed if you are just giving your dog a quick bath at home.
A good dog groomer doesn't just perform a haircut for a beautiful result, they also are looking for any signs of trouble that may be developing under the fur.
Another aspect of dog grooming that owners often overlook is the importance of a dog that not only looks good, and smells good, but how his appearance can have a positive impact on how a dog feels about himself and those around him! You know this for yourself after a trip to the barbershop or the hair salon…"If you're lookin good, you are feelin good!"  
We are often asked, "how frequently should I have my dog groomed"? The answer is quite simple…" It Depends". Every dog breed is different with factors like the length of their hair, the type of hair and, the amount of time they spend outside, all coming into play. It also depends on how short you keep your dog's hair cut, and if you do any "touch up" grooming between visits. A good rule of thumb to follow is every four to six weeks. 
Another common question we are asked is "should I have my puppy groomed?" The answer is absolutely!  Having a good experience with the dog groomer early on will reap huge benefits as your pup gets older. Ear cleaning and nail clipping will become a much more acceptable procedure in the future.  This is especially important f you have a long-haired breed, as your puppy will become used to the extra time it takes to stay still while his hair is brushed and cut.   
Finally…..What are some of the advantages of "Mobile Dog Grooming" vs taking your dog to a groomer's place of business?  
Convenience – We provide door to door service at your home (or even your place of business). 
Time-Saving -You don't have to allocate time to drive to the groomer, and then return hours later to pick up your Dog. 
Reduces Stress – Your dog doesn't spend time caged or in a crate awaiting his turn with the groomer.
Saves Resources – Our state-of-the-art unit is self-contained, we utilize our own electricity and water
One on One Care – Your Dog will experience the care and attention of a single groomer
Where's a Dog Groomer Near Me? – The age-old question is answered…We are as close as your phone!